Largest mobile repair shop in the Washington
Northwest Services provides "old-fashioned" quality service.  We are on call for our clients 24 hours a day and resolve any problems within hours.  Our mobile service truck is well equipped so we can take care of any problem quickly, whether it's a mobile medical unit or tractor/trailer.
Northwest Services Team
Red-Custom Mobile Service Truck
Weighing in at 23,000 lbs., Red is a 2003 MT-55  Freightliner with custom-built Utilimaster body. Specially built for on-location work, Red is  furnished with all the tools, equipment and parts necessary for most repair  jobs.
Read through the bios below to learn more about the team that brings "Red" to you.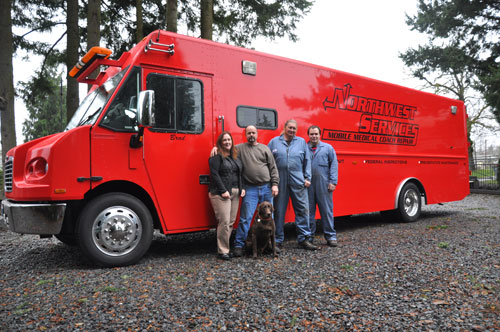 Brad
Brad  is the  owner of Northwest Services along with his wife Jackie.  Brad is the head mechanic for the company and has a wide range of mechanical skills.
When Brad is not working on the job, he is busy working at home on one of many hobbies: "jeeping" in the country in his '54 Willys, restoring vintage cars, working in the yard or a work night out at the track.

Dick
Dick is the top mechanic for Northwest Service and has been with the company since 1997. He  provides key insight on every call we get and has the skills to fix anything put in front of him.
When he is not working, Dick can be found spending quality time with his two daughters either out on his boat or riding bikes.

Brandon
Brandon is a journeyman mechanic for Northwest Services and has been with the company since 2006.  He spends his days giving a helping hand to Brad or Dick.
At night, he is a father and a husband.  Brandon's hobby is watching a favorite show with his family or a quick video game with his brothers.

Jackie
Jackie is the bookkeeper for Northwest Services.  She does any and all paper work, such as billing, invoices, and phone calls.
When Jackie is done working, she loves to read romance novels, play games on the computer or drink a cup of coffee with family and friends.

Thomas
Thomas is our 25 lb. cat who keeps the shop free of critters.