Trucks
Semi-truck and trailer repair
Whether you call it a semi-truck or tractor trailer, we service and repair them all the same. On-site repair has been a part of our business for over 20 years so you can be sure we know what we're talking about with it comes to semi's and trailers.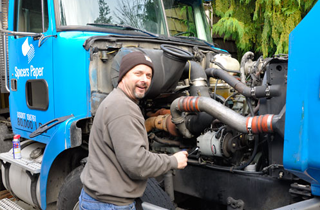 Tractor Repair
Lube, oil and filter changes
FHWA inspections
Alternators
Starters
Batteries
Jump Starts
Brake Jobs
Air Systems
Suspension systems
Electrical
Clutch replacements and adjustments
Fifth wheel repair and replacement
Preventative maintenance
Trailer Repair
Brake jobs
Preventative Maintenance
FHWA Inspections
Lights
Repair and replacement of the following:

Air systems
Decking
Swing door
Roll door
Roof (aluminum and fiberglass)
Landing Leg
Fifth wheel
Bottom rail, top rail, roof bows and side skins
24-hour emergency road service
Our mechanics are standing by to help you, all hours of the day or night. Whether you need work on your fifth wheel, suspension or your trailer's swing door needs repairing, Northwest Services is standing by to get you up and running. One call and our technicians will be on our way in our mobile service truck to fix your problems.
Well-equipped mobile service truck
The star of our business is Red, our custom built service truck. Red is equipped with quality tools, parts and equipment to assess and fix all repairs on tractor trailers. We carry everything we need (even a welder) so we can fix your problem and have you back out on the road sooner than the other guy. Time is money, right?
All repairs done on-site or in yard in Edgewood Washington