Mobile Medical Units
Service & repair for mobile medical units in WA State
Mobile custom fabrication
Welding for steel or aluminum
Preventative maintenance
Lube, oil and filter changes
FHWA inspections
Alternators
Starters
Batteries
Jump Starts
Brake Jobs
Air Systems
Suspension systems
Electrical
Northwest Services specializes in the repair and maintenance of mobile medical coaches, such as MRI, CT, PET-CT and mobile mammography units.  Since 1992, our technicians have been working on mobile medical units throughout Washington State.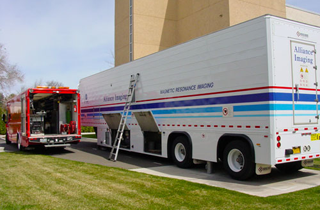 24 hour emergency response
The team at Northwest Services is on call 24 hours a day and offers emergency response so you never need to worry about your mobile medical coach being out of service for very long.  Our mechanics have more experience than others at working on these specially designed vehicles.
Quality and Reliability
Mobile medical units provide an important service in the community and so our mechanics work with precision and the utmost attention to detail.  We know many people are relying on you for medical attention and so our team uses the highest quality parts and equipment to make sure your repairs are done right and no unexpected problems arise later.
On-site repair & maintenance for Puget Sound
We have everything needed for on-site repairs and maintenance in our customized mobile service truck.  Our service truck "Red" was built to include a wide range of parts, tools and equipment to fix every part of your mobile medical coach (except the medical equipment).  We even offer mobile custom fabrication and welding for steel and aluminum with our onboard welders.